Blue Jays Jerry Howarth in his own words, Part 2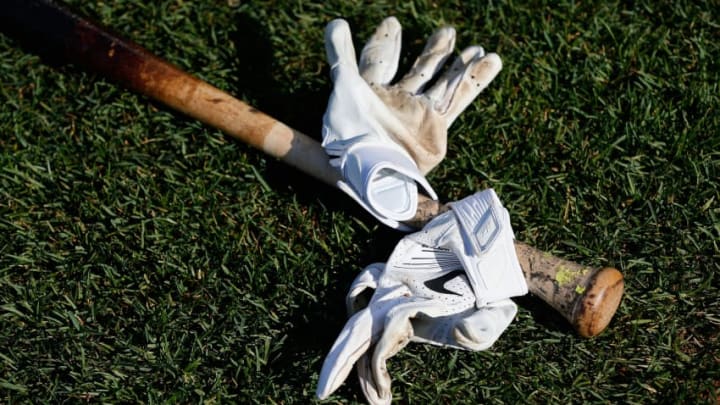 BALTIMORE, MD - APRIL 20: A bat and batting gloves sit on the grass before the start of the Toronto Blue Jays and Baltimore Orioles game at Oriole Park at Camden Yards on April 20, 2016 in Baltimore, Maryland. (Photo by Rob Carr/Getty Images) /
In my previous post, I asked Jays recently retired radio announcer, Jerry Howarth, his thoughts and views on this year's Jays.  I was curious to get his opinion on their performance in the handful of games they've played thus far this season.  In this post, I focus on the memories and games that Howarth got to experience first-hand; also his greatest call, his daily pre-game routine, his favorite city to broadcast from and much more.
A sports announcer is so much more than someone who just calls a game; it's someone who is able to captivate us, hold our attention and deliver a story.  Not everyone can do that.  Not everyone has this talent.  But every once in a while there is someone who engages us so passionately with their words and conversation that we look forward to hearing them speak again and again.  We turn the radio on with anticipation when it's close to game time because we know we'll be greeted with that special voice we've all grown so accustomed to.
Howarth is one of these broadcasters; one that has been a staple of Toronto baseball for thirty-six years.  Over the years Howarth has been with us in our homes, our cars, our backyards and anywhere else we could get a radio signal.  He explained the game of baseball in terms that even the most layman could understand.
But what about the broadcaster himself?  What are the specific memories and stories that Jerry experienced?  Well, read on to find all that out and more.
Kirsten:  If you weren't a broadcaster, you'd probably be a _______.
Jerry:  Journalist
K:  Have you thought of writing a book about your career? 
J:  Just finished writing my book – 100,000 words; it's currently with the publishers
K: Did you ever come close to leaving the game or retiring before 2018?
J:  No, never
K:  A broadcaster (current or past) whom you respect and admire?
J:  Dan Shulman
K: When a game ends at 10 PM, what time would you leave the stadium by?
J:  10:20 pm
K: Which baseball city has the best food?
J: Milwaukee
K: Favorite city to broadcast from and why?
J:  Boston and the intimacy and history of Fenway Park
K:  First Blue Jay you ever interviewed?
J:  Roy Lee Howell in 1980
K:  Funniest Blue Jay you ever interviewed?
J:  Tom Henke
K:  Top three Jays of all time?   
J:  Roberto Alomar, Dave Stieb, and Roy Halladay
K: What did your daily pre-game routine consist of? 
More from Toronto Blue Jays News
J:  Up at 8:30 AM; a Starbucks; laptop prep work until 11:30 AM; lunch; 30 minute nap; to the ballpark at 2:30 PM; on the field talking with the manager, coaches and players during batting practice; dinner at 4:30 PM in the media dining room; review paperwork; call the game; leave twenty minutes after game for home or hotel; review scores around the league; bed at 12:00 PM; repeat 162 times
K: You spent your career in radio broadcasting; did you ever consider venturing into television?
J: I was fortunate to broadcast 30 Blue Jays games on Sportsnet with Rob Faulds back in 2002 while broadcasting all the other games on the radio. I thoroughly enjoyed it and met everyone behind the scenes on the television side. The next season Sportsnet jumped to 120 games and I went back to full-time radio which I preferred.
K: Out of the thousands of Jays games you've called, which are the top three games you're grateful for being able to be at and witness live? 
J: Top three games that I was able to see:
Game 4 of the ALCS in Oakland in 1992 when Roberto Alomar homered off Dennis Eckersley in the top of the 9th inning to dramatically tie the game which led to an extra-inning win and eventual trip to the World Series;
Game 2 of the 1992 World Series in Atlanta when pinch-hitter Ed Sprague homered off reliever Jeff Reardon in the top of the 9th inning to take the lead and even up the series at a game a piece;
Game 6 of the 1993 World Series when Joe Carter walked if off with his bottom of the 9th inning three-run home run off Phillies reliever Mitch Williams to win back-to-back World Series Championships. These are also my top three home runs in Blue Jays history in this order.
K: Do you have an all-time favorite call you made? 
J: My all-time favourite call happened in the top of the 11th inning in Atlanta in Game 6 of the 1992 World Series when with two outs, Dave Winfield doubled home two runs for the 4-2 lead.  In the bottom of the inning, I handed the microphone over to my partner, Tom Cheek, who called the final out as Canada celebrated its first-ever World Series Championship.
K: Teams have great seasons and teams have awful seasons; the Jays are no exception.  During those awful seasons, was it ever difficult to head to the stadium day after day, loss after loss?
J: Not difficult at all. The won-loss record was never a factor for me calling games for the fans. During my entire career, I looked at each game as a blank canvas which I then tried to artistically paint to the best of my ability initially it in the bottom right-hand corner when that game was over.
K: Best aspects of your job?
J:  Preparing for the broadcast which included both studying all the paperwork and websites plus the discussions on the field.
Next: Blue Jays: Jerry Howarth in his own words, Part 1
The season has now started and even though we're slowly warming up to hearing different voices announcing the games, we won't soon forget the one and only Jerry Howarth. We thank him for the great memories he's provided us throughout the years and wish him well in his retirement – it's truly deserved!