Toronto Blue Jays News
Blue Jays: Bisons Coca-Cola Field to Change Name in 2019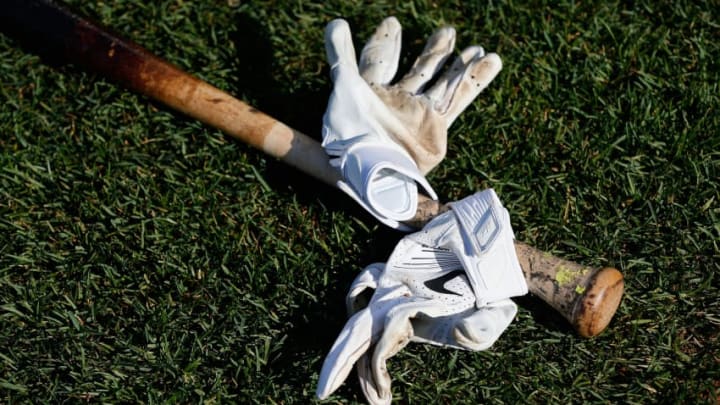 BALTIMORE, MD - APRIL 20: A bat and batting gloves sit on the grass before the start of the Toronto Blue Jays and Baltimore Orioles game at Oriole Park at Camden Yards on April 20, 2016 in Baltimore, Maryland. (Photo by Rob Carr/Getty Images) /
Coca-Cola Field, the home of the Buffalo Bisons since 1988, will be getting a new name for the 2019 season. While the Bisons will still continue their partnership with Coca-Cola, it will not include naming rights.
According to multiple reports, the Coca-Cola Bottling Company will not be renewing the naming rights deal for the Buffalo Bisons' Coca-Cola Field. This means that the city of Buffalo will put the name up for auction, and the stadium will don a new title starting in 2019.
Coca-Cola Field, which opened in 1988 under the name Pilot Field, has been the Bisons' home since its inaugural season. With a capacity of just under 17,000, it hosted the 2012 Triple-A All-Star game and is currently the largest minor league baseball stadium in the United States by capacity.
Coca-Cola's deal, which was signed in December of 2008, gave them 10 years worth of naming rights, signage rights, and some exclusive advertising rights. The deal expires at the end of this season.
More from Toronto Blue Jays News
While the Bisons' affiliation deal with the Blue Jays expires at the end of this season, it is expected that the two sides will come to an extension before the end of the summer. Last season, the Bisons finished 5th in their division with a record of 65-76.
Prior to their affiliation with the Jays, the Bisons served as the Triple-A affiliate for the Indians (1995-2008), the Pirates (1988-1994) and the White Sox (1985-1986). They had also briefly been associated with the Expos, the Reds, the Tigers and the Phillies.
Currently, the Bisons, who are managed by former New York Yankees shortstop Bobby Meacham, have many notable players on their roster. Joe Biagini, Danny Jansen, and Teoscar Hernandez are all slated to open the season in Buffalo.
Next: Blue Jays: Ample bullpen depth awaits in Buffalo
Coca-Cola Field was named the "coolest minor league ballpark" on Complex.com in 2011. They noted that the retro-modern architecture, along with the rowdy and entertaining fans, makes this ballpark a great place to take in a ballgame. It's about a two-hour drive from the Rogers Centre and ticket prices range from $10 to $16, with many special event nights scattered throughout the summer.