Blue Jays: Any production from Troy Tulowitzki would be a bonus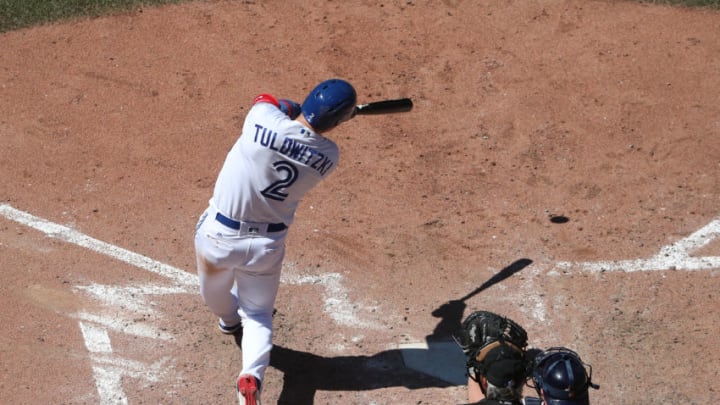 TORONTO, ON - JULY 8: Troy Tulowitzki /
Troy Tulowitzki has had a trying tenure as a member of the Toronto Blue Jays since his arrival from the Colorado Rockies. The elite production hasn't followed him since the trade, and there have been DL stints baked in there. The latest from 2017 was a very messy sprained ankle which is almost certainly going to keep Tulowitzki out to start the year. It appears that any production from Tulo in 2018 would be a welcome bonus.
Even though the elite offensive production hasn't followed Troy Tulowitzki from Colorado, he's certainly been fine when healthy. Following the trade, Tulo amassed a 1.4 fWAR in 183 at-bats. In the 2015 playoffs, he looked similar to the Colorado Tulo with timely hits, including the three run home run in game three against the Texas Rangers, and the bases clearing three run double in game 5 vs. the Kansas City Royals.
In 2016, Tulowitzki was almost worth 3.0 wins (2.9), which was largely attributed to his work with the glove. His wRC+ was 103, barely above the league average of 100, but for an aging shortstop you'll take the season he put up with the bat, and his elite glove.
2017 was a mess for Tulo. He only had 260 plate appearances and dealt with a plethora of lower body injuries, including the sprained ankle that ended his season. The lower body definitely affected Tulowitzki offensively, but also on defense, as he didn't get to balls that Blue Jays fans have come to expect him to get the past few years. He was worth exactly 0.0 WAR, right at replacement level.
More from Jays Journal
All of that background brings us to today. We know the Blue Jays maybe shoulnd't count on Devon Travis and Troy Tulowitzki being healthy enough to play even 100 games each. That is why they prioritized middle infield depth with the acquisitions of Aledmys Diaz and Yangervis Solarte, both of whom could be every day players on other teams. The Blue Jays are well positioned to deal with injuries and missed time from both Travis and Tulowitzki.
The story at Spring Training is much different for Travis and Tulo, though. Devon Travis (knock on wood) seems healthy and looks very good. Tulowitzki can field ground balls but he still cannot run following his severe ankle sprain from last year, and the reported bone spur issues he's been dealing with in his heel. The Blue Jays have said that Tulowitzki will not be ready for Opening Day, which means Diaz likely opens the season at short.
The question now becomes how long Tulowitzki would be placed on the disabled list for to start the season? They could put him on the 15 day DL depending on his progress as spring continues to roll along. The issue with that is it wouldn't open up a roster spot. The idea of Troy Tulowitzki starting the season on the 60 day disabled list was floated by Jeff Blair yesterday on Fan590, and I agree with him. If Tulo doesn't start ramping it up by the end of the spring, placing him on the 60 day DL will open up a spot on the 40 man roster. It could even free up a spot for a non-roster invitee to crack the bullpen like John Axford, Al Alburquerque, Craig Breslow, or Jake Petricka.
Regardless, Tulowitzki seems destined to start on the DL, and considering the new replacement at shortstop in Aledmys Diaz could be a very good piece for the Blue Jays, they do not need to rush Tulowitzki back. If Tulowitzki does start the year on the 60 day DL, his season wouldn't start until around June. Even after Tulo returns, history of injuries is always concerning.
Given all that is going on with Tulowitzki, it's clear he is no longer a player the Blue Jays can rely on the way he once could be. Any value he brings to the team when he's active and healthy would be considered a bonus for the 2018 Toronto Blue Jays, and the front office likely views it that way too. That all means that the acquisition of Aledmys Diaz becomes crucial for success in 2018, even when Tulo is active and healthy.