Blue Jays' Lloyd Moseby to be inducted into Canadian Baseball Hall of Fame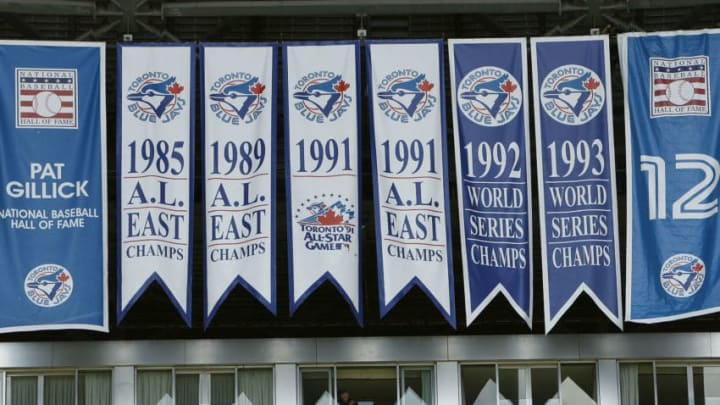 TORONTO, CANADA - JULY 31: A Hall of Famer Roberto Alomar /
The Canadian Baseball Hall of Fame announced earlier today that Toronto Blue Jays alumni Lloyd Moseby along with Pedro Martinez and Bill Humber will be inducted into the Hall of Fame later this summer in St. Mary's.
Lloyd Moseby who is affectionately referred to as the "Shaker" spent 10 seasons north of the border and formed one of the most talented outfield trios in Blue Jays history along with George Bell and Jesse Barfield. The trio could hurt you on both sides of the field, hitting for power with speed or playing stellar defence with arms that were rarely tested.
Bell was inducted into the Hall of Fame in 2013 while Barfield still awaits the call from the Hall which he will undoubtedly receive at some point in the near future. The last few years has seen former Jays' Roy Halladay, Pat Hentgen and Carlos Delgado enshrined in the Hall as Blue Jays representatives.
Moseby was selected by the Jays in the 1st round, 2nd overall in the 1978 amateur draft. The outfielder played 1392 games in Toronto hitting .257/.333/.415 with 149 home runs and 255 stolen bases whole accumulating a 25.9 WAR during his tenure with the Blue Jays. Moseby would spend the final 2-years of his career with the Detroit Tigers after latching on with Detroit as a free agent
More from Toronto Blue Jays News
Going into the Hall with Moseby is former Montreal Expos hurler Pedro Martinez who spent four seasons with the Expos going 55-33 with a 3.06 earned run average while winning a Cy Young award in 1997. In true Expos fashion, the team dealt Martinez to the Boston Red Sox during that same offseason for Carl Pavano and Tony Armas.
The third member going into the Hall is Canadian baseball historian and author Bill Humber. All three will be inducted into the Canadian Hall of Fame during the June 16th ceremony at 386 Church St South in St. Mary's, Ontario. Congratulations to all three 2018 inductees from the staff at Jays Journal.