Toronto Blue Jays News
Toronto Blue Jays Top Prospects- #16 Justin Maese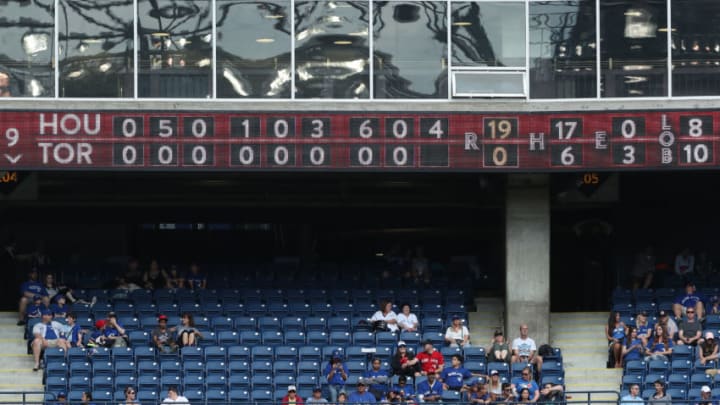 TORONTO, ON - JULY 9: The line score on the auxiliary scoreboard shows a nineteen run deficit in the ninth inning during the Toronto Blue Jays MLB game against the Houston Astros at Rogers Centre on July 9, 2017 in Toronto, Canada. (Photo by Tom Szczerbowski/Getty Images) /
After being rated as our #8 prospect in 2017, Justin Maese has fallen behind a few other names, but is still young and talented enough to have a lot of upside.
For as good of a year as the Blue Jays had in terms of prospect development, not everyone took a step forward in 2017. Case in point was Justin Maese, who started back in Low A Lansing with the Lugnuts after having finished his 2016 season there with a 3.36 ERA over 10 starts.
He returned to Lansing and hoped to build on his strong performance, but Maese had a few set backs and finished 5-3 with a 4.84 ERA and a 1.47 WHIP in 12 starts for the Lugnuts. It was hardly the season the 20 year old had hoped for. He also made three starts for the Gulf Coast League Blue Jays while on rehab assignment, throwing nine innings and posting a 5.00 ERA in that short stint.
Justin Maese
Position: RHP      Age: 21
Height: 6'3      Weight: 190 lbs
Throws: Right      Bats: Right
Acquired: 3rd round pick, 2015 MLB draft
Unfortunately injuries were the biggest culprit, as he landed on the disabled list three separate times, and ultimately had to pack the season in for good in August with shoulder issues. Those shoulder ailments were the issue all along, and he just couldn't find the form that made him such an exciting prospect in 2017.
More from Jays Journal
The former third round pick of the 2015 draft will enter the season hoping to turn things around, and likely with the goal of moving up the organizational ladder, at least one step before 2018 has concluded. It appeared that would be a no brainer when last season began, but injuries have a way of stalling development.
He relies heavily on a sinking fastball that sits in the low to mid 90's, and also mixes in a slider and a change-up. The fastball and slider are said to be reasonably far along for this point in his development, but the change-up will need more work before he's ready to advance.
Things weren't all bad for him last year either, as he was named as a mid-season All-Star with the Lugnuts before the injury troubles really set in, but he was basically out of commission for all of June and most of July, and lasted just five starts when he was able to return. His shoulder strength clearly wasn't where it needed to be at that point yet either, as his longest outing was just 4.0 innings, and he threw just 17 frames in his five appearances.
Both the Blue Jays and Maese will hope for a healthier season in 2018, and hope to get him back to the player that was among the more exciting arms in the minor league system.