Blue Jays well represented in Top 10 Greatest Bat Flips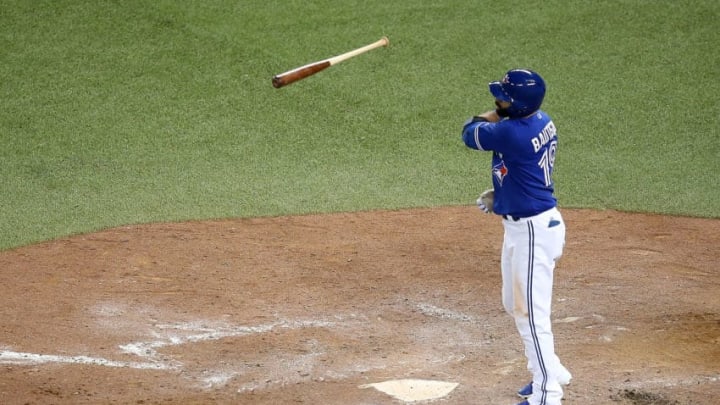 TORONTO, ON - OCTOBER 14: Jose Bautista /
The MLB Network recently ranked the Top 10 Greatest Bat Flips and low and behold the Toronto Blue Jays were well represented on the list taking three of the top ten spots, however, surprisingly a former Blue Jay not named "Joey Bats" took home the top honour.
Edwin Encarnacion was the first Blue Jay to appear on the countdown coming in at 8th with his wild-card game-winning homer versus the Baltimore Orioles in 2016. As I am sure you all recall Edwin smashed a three-run homer in the 11th inning off Ubaldo Jimenez to propel the Jays to a 5-2 victory over their division rivals setting up a rematch with the Texas Rangers.
Taking the 6th spot in the rankings was Carlos Delgado and his overhand flip after connecting for his fourth home run of the game versus the Tampa Bay Devil Rays in 2003. The memorable game saw Delgado launch his 300th career home run in the 1st inning and then proceed to follow it up with three more round-trippers before it was all said and done.
More from Toronto Blue Jays News
Coming in at number two is arguably the most iconic home run in Blue Jays history besides Joe Carter's World-Series winning bomb off Mitch Williams. The Jose Bautista home run and epic bat flip that followed will forever be engrained in my memory at that of millions of Canadians for the rest of our lives. The events and emotion that led up to that historic bat flip that united a nation were one of the most remarkable moments in Canadian sports history.
If you are still shocked the Bautista was not number one, take some solace that the best all-time bat flip was a player who would end his career as a Toronto Blue Jay. Tom Lawless was a Cardinal at the time hit a Game 4 homer in the 1987 World Series versus the Minnesota Twins. Lawless who had only one major league home run in his career prior to that one walked up the first base line for almost 10 seconds before launching his bat. Ironically the pitcher he hit the homer off of was Frank Viola who would also end his major league career north of the border in Toronto.
Next: Blue Jays: If healthy Devon Travis could be a difference maker
How come players get so upset now days over bat flips when it obviously has been taking place long before Jose and company began tossing the lumber. Enjoy it folks, nothing wrong with a little emotion and swagger on the diamond.