Blue Jays: Does Zeke have a place on the 2018 team?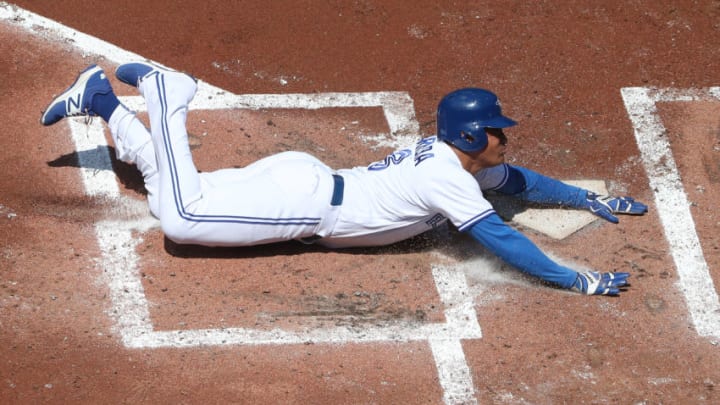 TORONTO, ON - AUGUST 13: Ezequiel Carrera /
The Blue Jays will be looking to make some significant roster changes for their 2018 team. With that in mind, there may not be a place for Ezequiel Carrera on the roster next year.
As exciting as this years World Series has been, I know I can speak for several Blue Jays fans when I say I just want it to be over so the offseason can officially begin. Free agency doesn't officially begin until five days after the conclusion of the World Series, which will end sometime this week, one way or another.
When that happens, the Blue Jays will join the rest of baseball in a pursuit to make their team better, both in the short, and long term. There are several noted needs that we've already discussed at length here at the Journal, especially if the team hopes to be competitive next season.
There's a need for a fifth starter, some bullpen help, a back-up catcher, and likely an outfielder with the departure of franchise icon, Jose Bautista. With each move Ross Atkins and Mark Shapiro make over the coming months, the situation changes for everything else in the equation. All of that adds up to the potential for a lot of moving parts.
More from Jays Journal
The fluidity of the situation will have a domino effect for a lot of players, and one of the more "up in the air" names is Ezequiel Carrera. The favourite of John Gibbons had a solid season at the plate in a part time role in 2017, hitting .282/.356/.408 with eight home runs, 20 RBI, and 10 stolen bases in 289 at bats. The underrated hitter earned a 1.0 oWAR (according to Baseball Reference), routinely contributing on offence when he was penciled into the lineup.
Unfortunately his defence was another story altogether. Carrera posted a -1.8 dWAR, and often looked lost in the outfield. He made several misplays and throwing errors throughout the year, which ultimately kept him from playing on a more regular basis. It really is unfortunate, because his skillset is more or less what the Blue Jays need on offence, but the liability on the other side of the ball was so great that even Steve Pearce and Jose Bautista were more trusted, neither of whom is anywhere near an elite defender.
As we look ahead to the 2018 season, it's hard to say where this might leave Carrera in the outfield picture. Bautista won't be returning, but at this point it appears that Kevin Pillar will return in centre, and Steve Pearce will get the bulk of playing time in left field. Teoscar Hernandez could have a serious shot at the right field job, but the front office has also mentioned that they'll have an eye on that department this offseason as well. Hernandez will likely start the season in Triple A if he's not starting at the big league level, but that's not a given either until we know who is on the 40 man roster.
Looking at the future of the bench, things are pretty up in the air. What we do know is they'll need to carry at least one back-up catcher, one infielder, and one outfielder, with the fourth position often being depth at one of the latter two positions. This season for example, the Jays started the campaign with Jarrod Saltalamacchia at catcher, Carrera in the outfield, and Darwin Barney and Ryan Goins to round it out. If you recall, the last position came down to Goins or Melvin Upton, with the front office wisely electing to keep the keystone depth to cover for seemingly inevitable injuries to Troy Tulowitzki and Devon Travis.
Carrera could be a candidate for that 4th outfielder position, or the flex spot again, but it's also possible that he becomes a non-tender candidate. He earned 1.163 million last season, is set to enter arbitration for the 2nd time, and is under control until 2020. He's not likely to get a big raise, but it could be enough that the Blue Jays decide to go in another direction. It'll ultimately come down to:
a)  If they acquire an outfielder through free agency or trade,
b)  What they decide to do with Teoscar Hernandez to begin the year,
c)  How they use the flex position, although I would expect them to keep the extra infielder as they did in 2017.
If I were going to guess, I would expect the front office to go in another direction, but again that will all depend on how the other dominoes fall. He won't be expensive by any means, and he's a capable hitter with a bit of speed, but it just feels like his position is one that will undergo some change, especially with the talent in the minor league system with the likes of Hernandez, Anthony Alford, Dwight Smith and hopefully a someday healthy Dalton Pompey.
Next: Blue Jays & Cleveland: Possible trade partners?
The couple million they spend on him could be reallocated the bullpen or somewhere else, and could make a difference for a team with the 4th highest payroll in baseball this year. While I do see some upside in the 30 year old Venezuelan, I wouldn't be surprised if he's wearing a different jersey next season.