Blue Jays' Guerrero named ESPN "Prospect of the Year": Law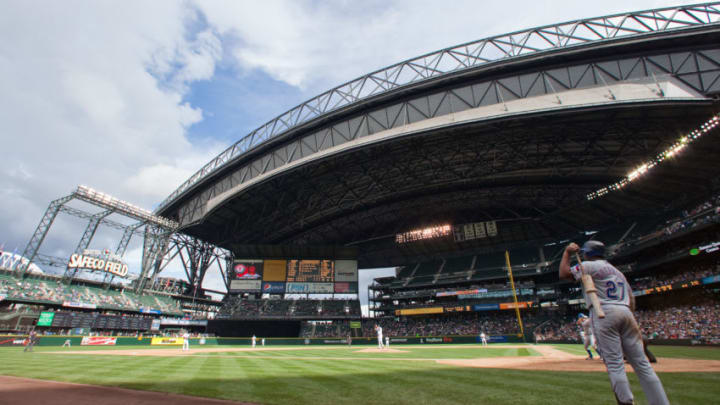 SEATTLE - SEPTEMBER 19: Vladimir Guerrero /
One of baseball's top prospect gurus, Keith Law, named ladimir Guerrero Jr. as the top prospect in baseball in 2017, after he dominated the minor leagues across two levels.
*Note- Yes, I'm aware that's a photo of his Dad as the featured image. 
The Blue Jays have a lot to be excited about when it comes to their future, and the latest example came on Wednesday morning. The ESPN Insider baseball website named Vladimir Guerrero Jr. as the top prospect in minor league baseball this season. You'll need to be a member of their insider group in order to read the whole article, but you can find it here.
Without giving away all of the info in the article (it's a paid premium service after all), Guerrero moved his way up the list throughout the season, and has now caught the eye of Keith Law as the top prospect in the minor leagues. Law has long been known as one of the foremost authorities on MiLB baseball, and this is an exciting development for the Blue Jays. Baseball America also comes out with their rankings on Friday, so it could be a pretty big week for the teenager.
It didn't take this honour for us to get excited about the junior Guerrero, but it certainly doesn't  hurt in affirming his talent. As stated in the article, the list is a reflection of a few different factors, as Law notes that the stage of development, and age of the player (vs. their competition) were huge factors. In Guerrero's case, he's been mashing the ball all year, and doing it against competition that should be more advanced than he is at the tender age of 18 years old.
More from Jays Journal
He started the season with the Low-A Lansing Lugnuts, and made quick work of that level of competition. Through the course of 71 games he hit .316/.409/.480 with seven home runs and 45 RBI. Along with his elite teammates Bo Bichette, he was then moved up to High-A with the Dunedin Blue Jays, and he didn't miss a beat at the next level.
He hit .333/.450/.494 with six home runs and 31 RBI in 48 games, actually improving his performance at the next season. Combining his stats for the year, he finished the MiLB regular season hitting .323/.425/.485 with 13 home runs and 76 RBI. He also chipped in 28 doubles and eight stolen bases in 12 attempts.
While the Blue Jays have developed several talented pitchers in recent years, it's been awhile since they've had a position player in their system with this much upside. As mentioned above, he's still just 18 years old, so it's not fair to expect him to be starring in the big leagues soon, but he could force the issue sooner than later. If I were a betting man, I would put my money on him starting the 2018 season with the New Hampshire Fisher Cats in Double A, and if he can continue his dominance it won't be surprising if he reaches Triple A, or even gets a cup of coffee in the big leagues in September.
With an asset this valuable you don't want to rush their development, which is definitely a temptation with someone like Vladimir Guerrero. That said, he may force the issue if he keeps this up, and so far it looks like he'll do just that. It's not terribly common for prospects to reach the majors before their 20th birthday, but if Law's assessment is accurate and our eyes aren't deceiving us, don't be surprised if he's in a Blue Jays' uniform, sooner than later.