Blue Jays MiLB Recap: Weather cancels two, teams go 0-2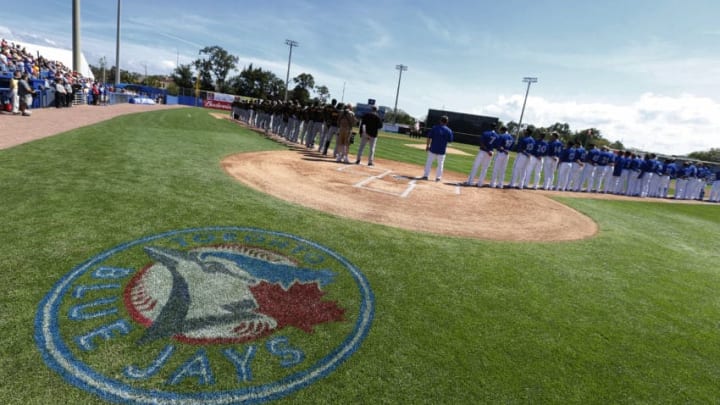 DUNEDIN, FL - MARCH 3: General view as the Toronto Blue Jays prepare to host the Pittsburgh Pirates in the spring training opener for both teams at Florida Auto Exchange Stadium on March 3, 2015 in Dunedin, Florida. (Photo by Joe Robbins/Getty Images) /
Jays Journal takes its daily look into the Toronto Blue Jays minor league system, today looking at the AAA-A levels. The affiliates went a combined 0-2 on Thursday, and will be looking to improve their play when some of the teams play on Monday.
AAA: Buffalo Bisons vs. Syracuse Chiefs (Nationals) – CANCELLED (INCLEMENT WEATHER)
The Buffalo Bisons and Syracuse Chiefs had their game cancelled on Sunday due inclement weather expected in the area. As there is only one game left in the season, they may just not reschedule this game and have the two teams play one less game for the season. The final game is scheduled for Friday with the first pitch being at 1:05 p.m. EST.
AA: New Hampshire Fisher Cats vs. Portland Sea Dogs (Red Sox) – RAIN OUT
The Portland Sea Dogs and New Hampshire Fisher Cats were rained out on Sunday, and much like the AAA Bisons, they will probably not reschedule this game with season's end being so close. The Fisher Cats will play their final game of the season on Monday, with first pitch being scheduled for 1:00 p.m. EST.
A+: Dunedin Blue Jays vs. Clearwater Threshers (Phillies) – 3-1 loss
The Dunedin Blue Jays were playing not only the final game of their series with the Clearwater Threshers, but they were also playing the last game of their 2017 regular season on Sunday. The Blue Jays were looking for the series sweep, but were unable to do so, losing 3-1. With the loss, the team will finish the season with a record of 72-66, but have qualified for the Florida State League playoffs.
Patrick Murphy (0-1) toed the rubber for the Blue Jays, and he had a so-so outing. While being credited with the loss, the right-hander went 5.2 innings, allowing three runs off of eight hits and one walk, while striking out four.
The pitchers to see action out of the bullpen were Nick Hartman, Zach Jackson and Kirby Snead. Hartman, who pitched first, went 1.1 shutout innings, allowing no hits or walks, while striking out one. Jackson then came in to relieve Hartman, and he pitched a shutout eighth inning, also allowing zero hits or walks while striking out one. Snead then came in to pitch the ninth, and he allowed no runs off of one hit and zero walks, while striking out one Thresher.
Offensively the Blue Jays did not hit the ball well at all. The team scored just one run off of six hits and zero walks – a total that will win you very few games.
The players who contributed at the plate were Vladimir Guerrero Jr. (1-3), Connor Panas (0-3, R), Michael De La Cruz (1-3, RBI), J.C. Cardenas (2-3), Edward Olivares (1-3) and D.J. Davis (1-3).
MVDJ: Michael De La Cruz – 1-3, RBI
A: Lansing Lugnuts vs. Dayton Tortugas (Reds) – 5-4 loss
After losing the first game of their series with the Dayton Tortugas, the Lansing Lugnuts were looking to get even in game two. Unfortunately the team was unable to win a close game, losing 5-4. With the loss, the team sits with a season record of 63-72.
Yonardo Herdenez started the game for the Lugnuts, and he had a very solid outing. The right-hander was credited with the no decision after going five innings, allowing two runs off of two hits and two walks while striking out five.
The two pitchers to see relief action were Bobby Eveld and Gaudy Ramirez (0-1). The first, Eveld, went three innings, allowing two runs (one earned) off of three hits and one walk. Ramirez then came in to pitch the ninth, being credited with the loss after allowing one run off of two hits and one walk.
More from Jays Journal
While the team did not have their best pitching performance on Monday, they hit the ball pretty well. The Lugnuts scored four runs off of 10 hits and one walk, a performance that wasn't enough today, but surely nothing to hand their heads over.
The players to contribute on the offensive end were Rodrigo Orozco (2-5, 2 2B, R), Joshua Palacios (2-4, 2B, RBI, R), David Jacob (2-4, RBI, R), Mitch Nay (2-4), Yeltsin Gudino (1-4), J.B. Woodman (0-3, BB, R) and Luis Silva (1-4, RBI).
The Lugnuts will be looking to avoid a sweep when they play their final regular season game of 2017 on Monday. First pitch is scheduled for 1:05 p.m. EST.
MVL: Rodrigo Orozco – 2-5, 2 2B, R
Next: Don't Expect Hernandez To Be An Immediate Star
That's all for today's MiLB recap. Check back in tomorrow when Jays Journal recaps Monday's minor-league action.