Blue Jays: Bautista's value in his presence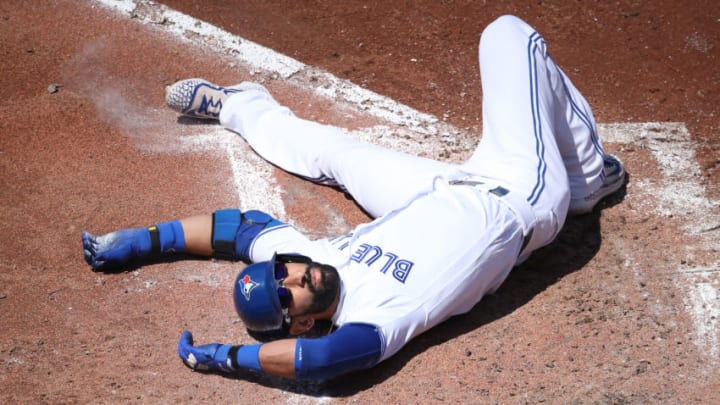 TORONTO, ON - AUGUST 13: Jose Bautista /
Despite the fact that Jose Bautista has struggled throughout much of the 2017 season, he's brought some value simply by being healthy enough to be in the lineup everyday. That sounds simple, but in a year chalk full of injuries in Toronto, that's worth something.
Jose Bautista was snake bitten in 2016, having two injuries that sidelined him for a good chunk of the schedule and also affected his performance when he was able to get on the diamond. He finished the year with 22 home runs and 69 RBI in 116 games, and finished with a slash line of .234/.366/.452.
In 2017 he's been healthy, but unfortunately his performance hasn't been any better. He's currently slashing .211/.321/.387 with 20 home runs and 54 RBI. The difference this year is that "Joey Bats" has been healthy, and has started in all but two games in John Gibbons' lineup. While his performance hasn't been what he or the club would have hoped for, his presence has been valuable for a number of reasons.
As noted there have been a plethora of injuries on the Blue Jays' roster, and it's been very difficult on their lineup. Devon Travis has been out for most of the season, as has his keystone mate Troy Tulowitzki. Josh Donaldson missed more than a month earlier in the year, and Russell Martin has been on the DL twice, including at the current time. Steve Pearce has missed a good chunk of time as well, as have bench pieces in Miguel Montero, Luke Maile, Chris Coghlan, Daryl Ceciliani, and more. You get the idea.
More from Jays Journal
And yet, Bautista has been there all along, a constant presence in a decimated lineup. This was supposed to be another fearsome offence in Toronto again this year, and instead they've underperformed so badly that they've spent almost the entire season in sole possession of last place in the AL East. Nobody expected that outcome.
Bautista's struggles have been widely noted, but he has to get some credit for playing on a regular basis and doing whatever is asked of him by Gibbons and the front office. He's hit anywhere from first to fourth in the lineup, he's played right field, third base, and first base. At no time have we heard a peep out of him about any of that, except that he mentioned to his manager that he would be willing to move around however the club felt would help the team win. That's being a good leader.
At 36 years old (he'll be 37 this offseason), you have to think there have been plenty of times that he could have used a day off throughout the year as well, but Gibby didn't have much choice but to keep trotting him out there. With Kendrys Morales as the designated hitter, who has limited defensive ability), Bautista hasn't been able to get a breath by DH-ing to save his legs either. He's been playing, day in and day out.
I've been critical of his performance just like pretty much everyone else, but I will give him credit where credit is due. He's kept himself in great shape for the latter part of his career, and whether that's translated into an All-Star level performance is only half the battle. He's been on the field and available in whatever capacity he has been needed, and that has value.