Blue Jays Award Watch: August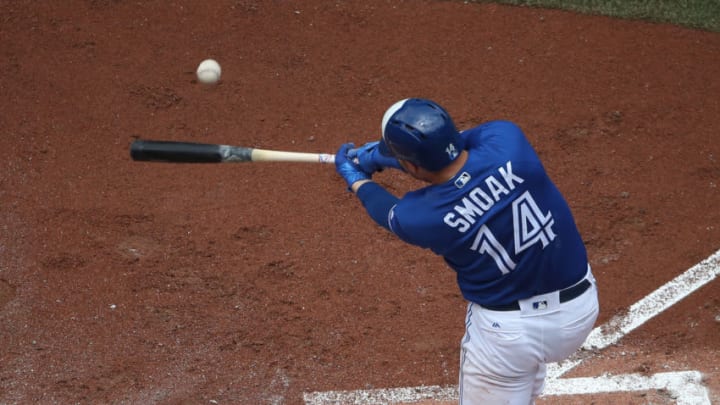 TORONTO, ON - JULY 29: Justin Smoak /
Even with the Blue Jays pretty much out of playoff contention, and seeming to look more to next year, there are still some bright spots in the lineup.
With the All-Star game and trade deadline passing, we're firmly in the second half of the MLB season, and the Jays are that much closer to closing out a lost season. But even in bad seasons, there can be bright spots. Just look at the Angels the past few seasons. They have consistently had one of the worst teams, but have also had one of the greatest players in the game, with Mike Trout. While there may be no-one on the Jays having a Trout-comparable season, they have players who have offered a glimmer of hope in an otherwise dark season.
Most Valuable Player:
Blue Jays Contenders: Justin Smoak
Off the board from last month: None
Despite the predictions of many, Smoak hasn't slowed down and has kept up his career best season, without slowing down much. After rightly getting the start at first in the All-Star game, Smoak has continued slugging with the best in the AL.
In home runs, Smoak is tied for second with Mike Moustakas, with 31, only behind leader Aaron Judge, who has 35. Smoak is fifth in RBI's with 76 and is even 17th in average with a .296 mark. Smoak is by far having the best season of a Jay this year, and is making the management look like geniuses for keeping him on.
The fact that he's having the best season of any Jay this year can be attributed to a couple of reasons. First, he's actually having a darn good season, hitting for power and average, while also getting on base very well, with a .374 OBP. Secondly, some of the other stars on the Jays have been injured, which has hindered their production. This includes players like Josh Donaldson and Devon Travis.
Cy Young: 
More from Toronto Blue Jays News
Blue Jays Contenders: Roberto Osuna, Marcus Stroman
Off the board from last month: None
Since Osuna came into this league, he has been one of the best closers in the game. This season is no exception. despite some recent blips, he still ranks among the best in the league with 28 saves, tied for second in the AL with Brandon Kintzler, and behind Alex Colome.
The one problem with Osuna this season is his ERA. He has a 3.47 mark. This is too high for a closer, and will seriously hurt his Cy Young value if it stays that high. He needs to push that number down, while increasing his saves, in order to seriously be considered for Cy Young votes.
Stroman has been the Jays best starter all season, as the regularly reliable J.A. Happ and Marco Estrada have struggled through the season. Unlike Osuna, Stroman's best number this season is his ERA. He has a great 3.17 mark, which puts him sixth in the AL.
Despite some criticism recently of his energy based, excitable style of play, Stroman has worked through to deliver some great outings, despite letting the team hit off of him well.
Manager of the Year, Rookie of the Year
Blue Jays Contenders: None
Off the board from last month: None
Next: Blue Jays: If there's a buyer, trade Bautista now
As it has been the majority of the year, the Jays don't have any contenders for these two awards. Manager John Gibbons will never get a vote if the Jays stay at last place in the AL East, and no rookies have done enough to be considered for a ROY vote.