Blue Jays MiLB recap – D-Jay's lineup continues to mash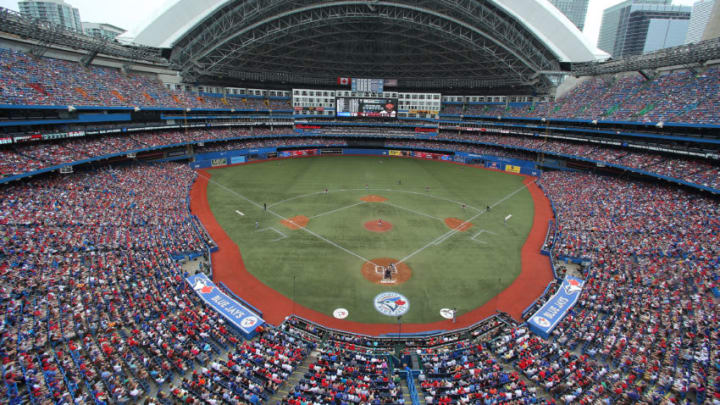 TORONTO, CANADA - JULY 1: A general view of the Rogers Centre on Canada Day as the Toronto Blue Jays play an MLB game against the Detroit Tigers on July 1, 2013 at Rogers Centre in Toronto, Ontario, Canada. (Photo by Tom Szczerbowski/Getty Images) /
Jays Journal takes its daily look into the Toronto Blue Jays Minor League system. Pitching struggles and the D-Jays offense keeps rolling.
Buffalo Bisons vs Louisville Bats (Reds)
2-5 Loss
The Bisons got of to a strong start in this one but their chances of winning were doomed after a four run 6th inning by the Bats. Three unearned runs during the inning while Murphy Smith was on the hill put the Bats up 5-1 after the top of the 6th. Nick Tepesch got the start and was great through 5 innings.  He allowed one run on three hits. He also did not walk a batter and struck out three. Tepesch had been used as a releiver by the Twins organization this season so he is trying to build up his pitch count. He needed just 58 pitches to get through 5 innings.
Jake Elmore drove in Roemon Fields for one of the Herds runs. Elmore went 3-5 during the game. Raffy Lopez continues to impress as he went 3-3 in this one to raise his batting average to .291. Jason Leblebijian picked up and RBI as he looks to break out of a slump that has lowered his batting average to .260. Leblebijian singled to score Mike Ohlman who went 2-3. The Bats pitchers were able to wiggle out of trouble during this one constantly. The Herd went just 2-12 with runners in scoring position.

Lucas Harrell will look to tame the bats on Sunday afternoon as he takes the mound. Harrell's last start was a month ago but he pitched well against a potent Rochester Red Wings lineup. He scattered 10 hits to allow just 3 runs.
MVB – Nick Tepesch 5 IP, 3 hits, 1 run, 0 walks, 3 K's
New Hampshire Fisher Cats at Binghamton Rumble Ponies (Mets)
2-7 Loss
Jon Harris's streak of solid starts came to an end Saturday evening as he was rocked for seven earned runs over 4.2 innings of work. This put the Ponies in a commanding lead as they powered up two long bombs off of Harris. Daniel Young came in to finish off the 5th inning and really calmed down the Rumble Ponies. He threw 2.1 innings of work and shut down every batter he faced and struck out three. Justin Shafer continued where Young left out and pitched a scoreless 8th inning.
Unfortunetly the seven runs scored by the Ponies was hard to comeback from with Scarlyn Reyes pitching the way he was. The Cats were able to collect just 5 hits in this game and were unable to get the offense going. Richard Urena picked up one of the runs with a single to score Derrick Loveless. Loveless had walked a few batters before being drove in. Danny Jansen would score on a sac fly from Lourdes Gurriel. Jansen had hit the lone extra base hit before scoring the run. Jansen hit his 15th double of the season and continues to impress with a .295 batting average. Emilio Guerrero extended his hitting streak to 13 games. The loss has the Cats on a four game losing streak currently.

Shane Dawson will look to break the streak as he takes on the Rumble Ponies Sunday afternoon.
MVFC – Most Valuable Fisher Cat for the game
Dunedin Blue Jays vs Florida Fire Frogs (Braves)
7-5 Win
The offense keeps chugging along for the D-Jays as they put another crooked number up on the scoreboard. The offense came back with a vengeance after trailing the majority of this game 1-5. An impressive offensive charge led to six runs in the 8th inning. D.J. Davis drove in the first run on a single in the 2nd inning. The D-Jays were then shut out for five innings until the offense took back the game.
In the 8th Max Pentecost got things going with a one out single. Vladimir Guerrero Jr. then walked to put runners on first and second. Connor Panas stays hot with an RBI single to score Pentecost. Juan Kelly brought everyone home with a triple to put the D-Jays down by 1. Michael De La Cruz singled to tie it up and the bats just kept cruising. Davis would single in another run and then a walk with the bases loaded scored the 6th run of the inning. Davis would go 3-4 during the game.
Jordan Romano got touched up for 2 earned runs and the defense also allowed 3 uneared in this one. Romano struck out 6 and walked 3 during the out. Dan Lietz and Jackson McClelland paved the way for the comeback as the stopped the Fire Frogs bats dead in their tracks with 4 scoreless innings.
MVDJ – Jackson McClelland 2 IP, 3 hits, 0 run, 0 walks, 5 K's
Lansing Lugnuts vs Great Lakes Loons (Dodgers)
2-6 Loss
The Lugnuts continue to struggle as they drop another one to the Loons Sunday. A great start from Kyle Weatherly was lost in the late innings. Weatherly looks like he finally found the form that was allowing him to dominate the Northwest League. Weatherly threw five innings of work allowing just 5 hits and one run. He also walked a pair and stuck out 4. Juliandry Higuera allowed one run in his 1.2 innings of work. Connor Eller was saddled with the loss as everything came apart in the 8th. The four run rally by the Loons led to their eventual victory.
Joshua Palacios continued to stay hot out of the lead off spot for the Lugnuts. He was able to rake in another pair of hits in this one as he starts to see his batting average climb more and more. Yeltsin Gudino picked up another RBI on a single that scored Ridge Smith. Smith had doubled prior to the Gudinon single. The offense just could not get enough going and the 3 errors sealed their fate Saturday.

Mike Ellenbest will get the start on Sunday and will look to continue where he left off in his last start. Ellenbest threw 6 shut out innings in his last start and picked up the win.
MVL – Kyle Weatherly 5 IP, 5 hits, 1 run, 2 walks, 4 K's
Short Season Team Notes
Vancouver Canadians (Northwest League)
Another Canadians win Saturday as one big inning allowed them to walk away with a 5-4 win over the Tri-City Dust Devils. Nate Pearson got the start in this one and touched 100 MPH on the radar gun consistently. He pitched 2 innings and struck out a pair while allowing just 1 hit. Kacy Clemens picked up a pair of RBIs in the big inning on a double. Logan Warmoth, Riley Adams, and David Jacob also picked up a single and RBI each in the five run 3rd.
Bluefield Blue Jays (Appalachian League)
After jumping out to a three run lead in the 1st the Blue Jays slowly bleed out the lead to the Yankees. Kevin Smith got the offense going with a 2 run homer in the 1st. The homer was his 5th of the season. Chavez Young, Yorman Rodriguez, Reilly Johnson, and Freddy Rodriguez picked up 2 hits each in the 5-4 loss. Turner Larkins got the start in this one and allowed a run over 5 innings of work. He also struck out 4. Jordan Barrett allowed the the bulk of the comeback runs on a pair of home runs.