Blue Jays: Would Jose Bautista waive his 10/5 rights to go to a contender?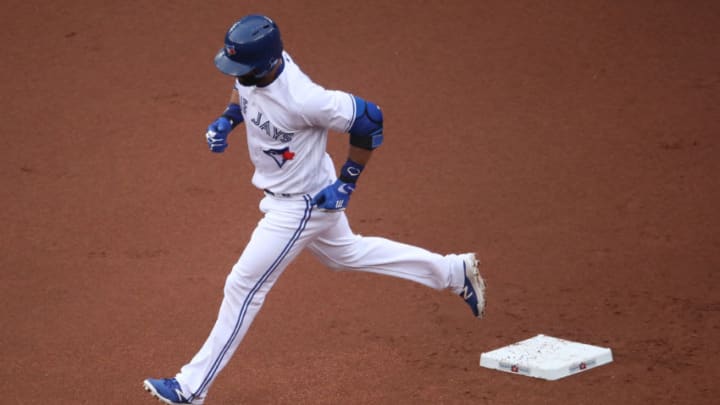 TORONTO, ON - JUNE 28: Jose Bautista /
As the trade deadline looms the Toronto Blue Jays brain trust are going to leave no rock unturned when it comes to bettering the club, one possible trade scenario would be to deal slugger Jose Bautista, there is just one catch.
Jose Bautista holds all the cards when it comes to his future for the remainder of the 2017 campaign. The slugger has 10/5 rights which prevent the Blue Jays from dealing the right-fielder without his permission.
A player attains these rights once they have been in the majors for 10 years with at least 5 consecutive years with their current club. Bautista easily qualifies having been in the majors for 14 years with 10 years consecutive years north of the border. According to my calculations, Bautista is the only rostered player with this luxury.
So the question is would Bautista waive those rights to move to a contender and possibly set himself up for a more lucrative contract next season and moving forward?
Bautista is currently earning $18 million this season but also has a mutual option for 2018 and a vesting option for 2019. There are a number of playoff-bound teams that are in the market for a big bat and even though Bautista isn't putting up his career norms this season, he is still a feared slugger in the majors.
The St. Louis Cardinals are said to be talking with teams for a power bat, could this be a possible destination Joey Bats would agree to? What about a reunion with Edwin Encarnacion for a shot at the title in Cleveland?
More from Toronto Blue Jays News
If the Jays inform Bautista they will not be picking up his option at the end of the season he may be more apt to go to a new destination now in an attempt to increase his market value with a productive second-half with a new team.
On the flip side, Bautista is very proud and loves Toronto so he could also dig his heels in and outright refuse to leave Toronto midseason. It's anyone's guess but usually, everything Bautista does is a calculated business approach.
The outfielder is only batting .234 but does have 14 round trippers and 53 walks during the first half. The slugger has 322 career home runs and surely would have suitors at the deadline.
Next: Blue Jays: Imagining what the 2020 lineup looks like
There is no telling how this one will play out but you have to figure the Jays will try their best to convince Bautista to take his services elsewhere if the teams continue to fall out of contention.