Why the Blue Jays should reunite with Dioner Navarro at backup catcher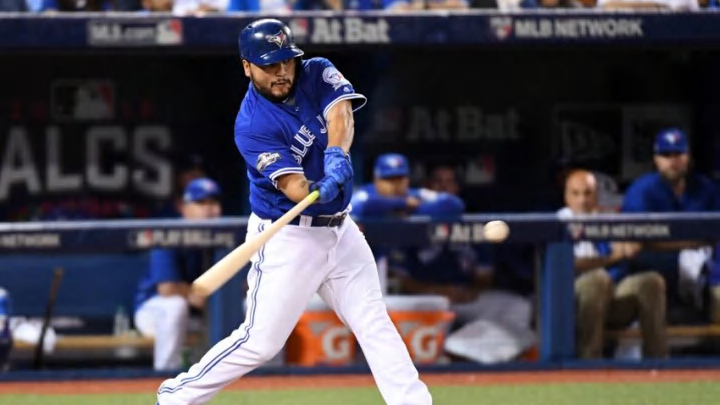 Oct 19, 2016; Toronto, Ontario, CAN; Toronto Blue Jays catcher Dioner Navarro (30) hits a single during the eighth inning against the Cleveland Indians in game five of the 2016 ALCS playoff baseball series at Rogers Centre. Mandatory Credit: Nick Turchiaro-USA TODAY Sports /
Over two stints with the Blue Jays since 2014, Dioner Navarro has demonstrated many desirable traits. The Blue Jays should seriously consider him at backup catcher.
Dioner Navarro is most certainly not the flashiest name on the free agent market, and certainly is not the most attractive catcher. With so many new on the market, though, it could be easy to forget a known commodity.
Navarro left the Jays in free agency last year, signing a one-year deal with the White Sox to pursue his goal of being an everyday catcher. That didn't go as planned and he ended up back in Toronto, filling in as a backup catcher much like in 2015. While he hit only .182/.250/.182 in his 33 games with the Blue Jays, that may end up being more of a positive than a negative. These numbers discourage his market, while encouraging him to be more open-minded. If Navarro no longer wishes to pursue a starting job, the Jays should be first in line for his services.
More from Jays Journal
First off, Navarro has always been a great clubhouse presence. While that alone does not win ballgames, camaraderie certainly helps. The Jays have built a strong clubhouse, and they won't get a better boost than by bringing Dino back into the mix. Despite his poor season, he will only be 33 next season, meaning he also has plenty of gas left in the he can do tank to make an impact. With Russell Martin entering the crucial part of his contract, Navarro could be tapped to catch his share of games. The Jays have to like the idea of giving Martin days off while relying on Navarro's bat over Josh Thole's.
Navarro still has plenty of power left in him, too. He's more than capable of reproducing his 12 Home Runs from 2016 and is capable of a batting average much higher than .203. If he's in the lineup he provides more than a ninth bat in the order. That's something Toronto certainly wished they could have had last year over specialist Thole. Furthermore, Navarro is not a dead weight on the bench. On days he's not starting, Navarro is a viable late game pinch hitter that can deliver offensively in a pinch. This also allows the Jays to be more careful with Martin. If the game's going well by the 7th. Why not rest Russ and have Navarro fill in for the last two innings?
Perhaps the biggest advantage for the Jays is Navarro's battery effect with Marco Estrada. In 2015 Navarro was Estrada's primary catcher, and bringing him back to do just that could go along way next season. Estrada is the Blue Jays presumed co-ace for 2017 and it makes a lot of sense to have the finesse pitcher be backed up by someone who knows just where the ball will go.
Navarro is so familiar with Estrada that he used his knowledge against Estrada and the Jays in late April, knocking a two-run triple in a 4-0 win. The Jays have operated with a built-in rest day for Martin whenever RA Dickey started, so perhaps they should do the same again.
Next: This Day In History: Jays trade for Donaldson
Dioner Navarro has all the tools to be one of the Blue Jays' best depth assets in multiple ways. If Navarro is willing and the money is right, a one-year contract to finish out Estrada's last year seems like an excellent idea. While not the most likely of scenarios, the Blue Jays could easily turn a positional weakness into a great strength for the 2017 season. To do this they'd need to look no further than the man playing soccer in right field.