Blue Jays MiLB season standouts – Lansing Lugnuts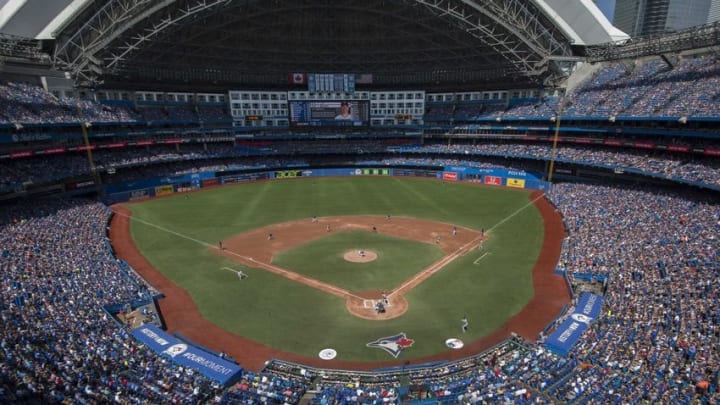 Aug 27, 2016; Toronto, Ontario, CAN; An overall view of the Rogers Centre during the third inning in a game between the Minnesota Twins and the Toronto Blue Jays at Rogers Centre. Mandatory Credit: Nick Turchiaro-USA TODAY Sports /
This is the beginning of a four-part series where we will look at the Toronto Blue Jays Minor League levels from Single-A and up.  We will highlight players that had great performances at each level (while they were at the level being discussed)
Single A – Full Season – Midwest League
The Lansing Lugnuts had a mixed batch this season as they were at one time the team to beat in the division but then had a rough second half where they just missed out on a playoff birth.  The mighty Lugnuts have been seeing the future of the Blue Jays' organization this past season.  Many of the Jays' top prospects played with or debuted with the team this season.
The Rugulars – Hitters (over 70 games with Lansing)
Let us start by taking a look at the regulars.  Juan Kelly was a consistent bat in the Lugnuts attack.  He led the team in games played with 131.  This slid him into the top hitters on the team in most categories.  He finished the season with a .274 batting average and produced runs.  He drove in a team leading 67 and scored 60 himself.  He also led the team's regulars in slugging percentage with .448 as he brought some power in the middle of the order.  He popped 12 home runs and an impressive 35 doubles.
The raw power of Panas was on display this season with the Lugnuts.  In his first full season with the organization he crushed 16 home runs and drove in 50 runs.  The impressive power shows in his .430 slugging percentage.  The flip side of this is that the "swing hard in case you hit it" principle usually translates to a low batting average.  Panas hit just .231, but look for him to continue to mature at the plate and refine that craft.
The Regulars – Pitchers (over 75 innings pitched)
In 25 starts for the Lugnuts Perdomo tossed a team-leading 127.0 innings.  He did this while holding onto a 3.19 ERA and allowing a .219 opposing batting average.  Perdomo also missed plenty of bats as he struck out 156 batters in those innings.  He allowed just 54 walks in those innings as he showed excellent control.  Perdomo allowed more than four runs in just two of his starts.
During his time with the Lugnuts this season Borucki was a force.  He finished his 115.2 innings of work with a 10-4 record.  Through his 20 starts he struck out 107 batters and walked just 26.  This efficiency eventually earned hit a shot with the Dunedin Blue Jays.  Borucki had a minuscule WHIP of 1.13 as he kept batters off the base paths and off the board.
The name most people were looking forward to seeing after being drafted in the first round of last years draft.  Jon Harris did not miss his opportunity to impress while he was with the Lugnuts.  Harris pitched 84.2 innings of solid baseball for the Lugnuts on his way to an 8-2 record through 16 starts.  He was on the top of his game with a 2.23 ERA and a 1.16 WHIP when the organization moved him to the Dunedin Blue Jays.  Harris showed excellent control and plus pitches while in Lansing, striking out 73 batters while walking 24.
Key Contributors – Hitters
The Blue Jays first round pick of the 2014 draft appears to be finally healthy and back to swinging the bat well.  During his 62 games with the Lugnuts Pentecost raked at the plate.  He batted .314 with 7 homers and 34 RBI.  Pentecost also hit 15 doubles and produced a .490 slugging percentage.  Pentecost got a late season audition with the Dunedin Blue Jays as a reward for the hard work he put in with the Lugnuts.
Gunnar Heidt was a 13th round pick during the 2014 draft but he should be showing up on your radar by now.  This season he split time between the Lugnuts and the D-Jays but really stood out in his time with the Lugnuts.  He played 57 games with the Lugnuts and batted .270.  He was a consistent hitter that came through in the clutch.  If Heidt can improve on his strikeout rates he could be a good line drive hitter with some solid speed.  He stole 13 bases with the Lugnuts and added on nine more in Dunedin.
Key Contributors – Pitchers
Sean Reid-Foley made his debut with the Lugnuts in 2015 and started 17 games.  Reid-Foley this season has looked like a player that should have been drafted even higher the 2014 draft.  In 11 starts and 58.0 innings for the Lugnuts this season he was dominant.  He held the Midwest League's hitters to just a 2.95 ERA with a 1.01 WHIP.  Hitters just could not square him up as they batted a mere .208 against him.  Reid-Foley showed excellent polish as he walked just 22 batters while striking out 59 with the Lugnuts.  Reid-Foley was promoted to the Dunedin Blue Jays and got 10 starts in that level where he appeared to get even better.
The 19-year-old pitcher out of El Paso, TX got off to a great start this season.  He was drafted in the 3rd round of the 2015 draft and was lights out in his debut this year with the Vancouver Canadians.  After posting a 2.05 ERA through five starts the Lansing Lugnuts brought him up.  He did not disappoint as he started 10 games down the stretch during a playoff race.  He threw a 3.36 ERA over 56.1 innings.  His pinpoint control allows him to fool batters regardless of the speed of his pitches.  Maese allowed just 14 walks and struck out 44 during his time in Lansing.
Next: Recap: Blue Jays fall to Rays in another disappointing loss
Exciting future players – Lansing debuts
Woodman had a stellar short-season debut after being drafted in the 2nd round of this year's draft.  Woodman batted .271 with the Canadians and earned himself a late-season debut with the Lugnuts.  The outfielder appeared in 9 games but hit 15-34 (.441) in his debut with the team.  He also had a pair of doubles, a home run, and drove in five runs.
Palacios was also selected in this season's draft and was a round 4 pick out of Brooklyn, New York.  Palacios jumped to three different teams in a short time as he accelerated through the lower levels of the Jays organization.  Palacios debuted with the Golf Coast League Blue Jays and posted a .265 batting average in 13 games.  He soon got a chance to go up to the Vancouver Canadians and he excelled in that opportunity.  He batted .355 in 28 games while driving in 13 runs.  This earned him a nine-game taste of the Midwest League.  With the Lugnuts he went 13-38 (.342) with three doubles.