Toronto Blue Jays overhaul ticket prices for 2017 season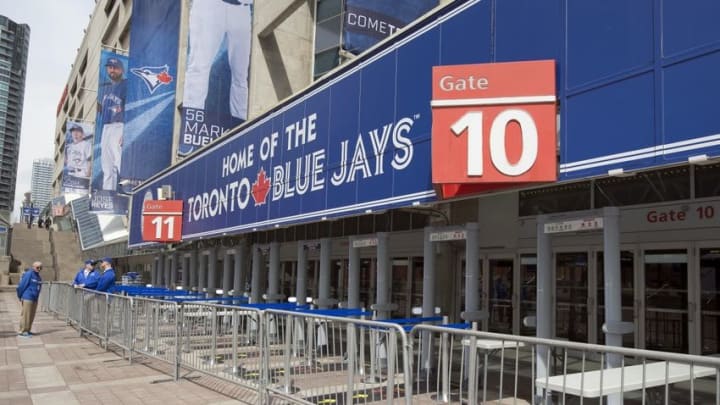 Apr 13, 2015; Toronto, Ontario, CAN; New Security measures implemented by Major League Baseball stand ready for screening fans at Gate 10 of the Rogers Centre before the home opener between the Toronto Blue Jays and the Tampa Bay Rays. Mandatory Credit: Nick Turchiaro-USA TODAY Sports /
Toronto Blue Jays ticket prices are going to look a little different for fans visiting the Rogers Centre in 2017.
As Shi Davidi reported this morning for Sportsnet, season ticket prices will be raising an average of nine per cent as the Blue Jays adopt a new pricing scale for individual games that includes five different categories:
A+:     2 games
A:       32 games
B:       20 games
C:       18 games
D:       9 games
"The idea is it's acknowledging that 81 games are not equal," executive vice-president of business operations Andrew Miller told Davidi. "Canada Day and opening day here, or a day like (Sunday) with a very popular promotion, may have a very different level of interest from fans than say a typical Tuesday night in April. All it's trying to do is more appropriately match the values assigned to each of those games with the ticket prices."
Along with the classification of the game, the price of Blue Jays tickets for individual games will depend on the time that a fan purchases their tickets.
Prices also rose ahead of the 2016 season following the Blue Jays' playoff run that sparked interest in the team, and attendance, across the board. That spike has carried into the 2016 season as the Blue Jays rank fourth in Major League Baseball in average attendance and first in the American League.
"I guess what I would say is it may be different from what was done in the past," Miller added, "but it's very common across sports at this point. In the past, if we just used one average price, an average means there are some games that should be higher and some that should be lower. So the only thing we know about that average is that for the most part, we're either overpricing a ticket or underpricing a ticket. What we're trying to do now is make it more accurate in terms of aligning that price with the true value of the ticket for fans."
This system does align the Blue Jays with a business practice that is growing more common across the MLB and other major professional sports in North America.