Toronto Blue Jays News
Toronto Blue Jays vs. Kansas City Royals: Fast facts series preview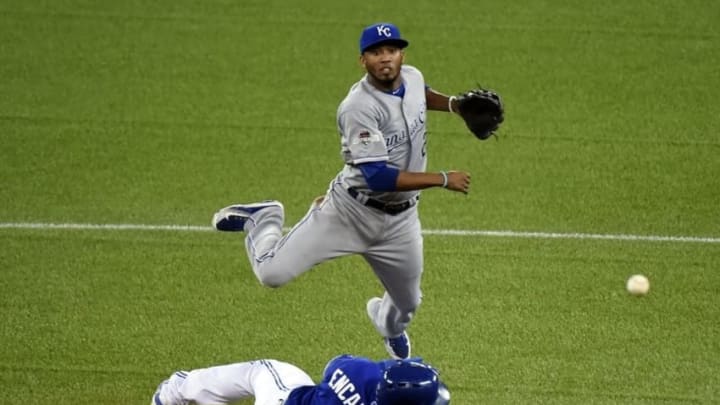 Oct 21, 2015; Toronto, Ontario, CAN; Kansas City Royals shortstop Alcides Escobar (2) completes a double play over Toronto Blue Jays designated hitter Edwin Encarnacion (10) during the fourth inning in game five of the ALCS at Rogers Centre. Mandatory Credit: Dan Hamilton-USA TODAY Sports /
The Toronto Blue Jays escaped Houston with some brilliant pitching that covered up for their swing-and-a-miss bats. Now it's on to Kansas City for a rematch of the 2015 ALCS, but the two teams have gone in different directions since the Royals' World Series win.
Kansas City currently sits at 51-57, fourth in the American League Central and well outside of the playoff picture with the division-leading Cleveland Indians a full 11.0 games ahead of them. Sustaining a championship team is always too high a bar, but few saw this significant of a regression coming.
With last night's win in Houston, J.A. Happ's 15th of the season, the Blue Jays moved back into a tie with the Baltimore Orioles atop the East. Boston, on a modest skid recently, now sit two games back of first with the Yankees still not completely dead at 7.5 back.
The Big Picture
Not that Kansas City ever relied on a powerhouse offence, but the bats have fallen especially short this season. The Royals have scored just 412 runs (Toronto has 528). Only the Mets, Phillies, and Braves have fewer than the Royals.
There's little need to fear the home run ball, either. The Royals also rank 27th in that category with just 92, ahead of the Giants, Marlins, and Braves.
KC's team batting average remains strong, as should be expected, at .263 (7th in MLB).
Their team on-base percentage doesn't match up though, ranking in the bottom third of baseball (22nd) at .312.
These numbers could still be enough if Kansas City were pitching like they have in the past, but that hasn't been the case. Their team ERA of 4.35 ranks 22nd.
With 146 home runs allowed, the Royals have given up the third-most with only the Twins and Reds ahead of them.
Royals to Watch
Alex Gordon's line at the plate embodies Kansas City's season, in a way. The outfielder has hit just .202 with eight home runs and 18 RBI in over 250 at-bats.
Eric Hosmer is having a more respectable year and leading the way in run production, driving in 59 with 15 home runs and his .279 average.
Workhorse catcher Sal Perez is enjoying a strong power season, with 16 home runs to go with his .266 average and 47 RBI.
Lorenzo Cain is back from a hamstring average and has a .287 average on the season. He should continue to impact all phases of the game, though could receive a planned day off.
Cheslor Cuthbert has enjoyed a strong rookie season at third base following the injury to Mike Moustakas, hitting .293 with nine home runs.
Jarrod Dyson (16 SB), Billy Burns (14), and Alcides Escobar (14) will all be a threat if they reach base.
Next: Shapiro and Atkins: The report card to far
Scheduled Starters
Game 1  –  Friday, August 5th  –  8:15 p.m. ET
Francisco Liriano (6-11, 5.46 ERA)   vs.   Dillon Gee (3-5, 4.66 ERA)
Game 2  –  Saturday, August 6th  –  7:15 p.m. ET
Aaron Sanchez (11-1, 2.71 ERA)   vs.   Danny Duffy (7-1, 2.98 ERA)
Game 3  –  Sunday, August 7th  –  2:15 p.m. ET
Marcus Stroman (8-4, 4.74 ERA)   vs.   Yordano Ventura (6-9, 4.83 ERA)