Blue Jays throwback: 27th anniversary of baseball at the Dome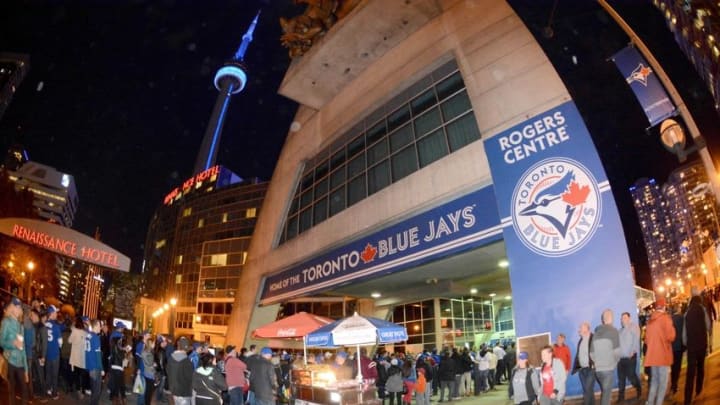 Oct 19, 2015; Toronto, Ontario, CAN; Fans line up to enter Rogers Centre prior to game three of the ALCS between the Toronto Blue Jays and the Kansas City Royals. Mandatory Credit: Dan Hamilton-USA TODAY Sports /
The Blue Jays fell 5-3 to the Milwaukee Brewers on opening night at the SkyDome on June 5th, 1989
Longtime Blue Jays fans know it as the SkyDome, and many still do. On this date 27 years ago, Toronto hosted their first baseball game under the retractable roof against the Milwaukee Brewers.
Already an "old" stadium when speaking within the context of the MLB landscape, the SkyDome was an architectural and engineering marvel at the time. Two nights prior to the first game, a rather grand opening was televised.
For the younger crowd muttering "who?" at many of the featured names, the audience's roar at the announcement of Glass Tiger is a sign of the era we're dealing with here.
Cito Gaston's Blue Jays lost 5-3 to Tom Trebelhorn's Milwaukee Brewers that day. Jimmy Key pitched all nine innings for Toronto, throwing 141 pitches. How the times have changed.
Junior Felix hit leadoff for the Blue Jays and was followed by Tony Fernandez, Kelly Gruber, and George Bell, who hit a solo home run in the eighth inning of that game. Fred McGriff also went yard out of the fifth spot, launching a two-run shot off of Brewers starter Don August.
The bottom half of the starting order consisted of Lloyd Moseby, Ernie Whitt, Rance Mulliniks, and Nelson Liriano. Paul Molitor was still playing with the Brewers at the time, he eventually signed with the Blue Jays prior to the 1993 season.
Toronto reached the ALCS that season, falling 4-1 to the Oakland Athletics. McGriff led the way in terms of power numbers with 36 home runs and 92 RBIs as Bell drove in 104 of his own. McGriff also ranked first on the team by a wide margin with 119 walks, next closest was Moseby with 56.
All three of Jimmy Key, Dave Stieb, and John Cerutti pitched 200+ innings that season, but what's incredible from their statistics is the strikeout numbers. Not one of the trio averaged five or more strikeouts per game. Again, how the times have changed.
Tom Henke was a different story out of the bullpen, fanning 11.7 batters per nine innings as he picked up 20 saves. Duane Ward earned 15 saves of his own, pitching 114.2 innings over 66 appearances.
The 1989 season saw the debut of John Olerud, as the 20-year-old went 3-for-8 over just six games. It was also the final year in which David Wells pitched full-time out of the bullpen, making 54 appearances with a 2.40 ERA.
For those fans who remember the spectacle that was 1989 in Toronto, what are your favourite memories? We'd love to hear from you.