Blue Jays: Who deserves the nod as the All-Star representative?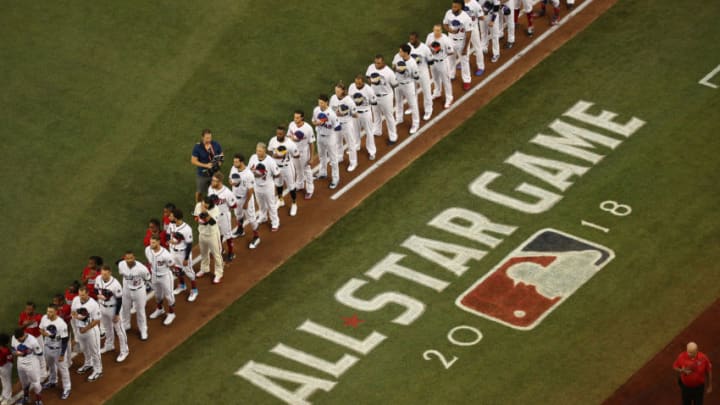 WASHINGTON, DC - JULY 17: Players line up for the national anthem prior the 89th MLB All-Star Game, presented by Mastercard at Nationals Park on July 17, 2018 in Washington, DC. (Photo by Win McNamee/Getty Images) /
TORONTO, ON – JUNE 19: Eric Sogard #5 of the Toronto Blue Jays hits a two-run single in the fourth inning during MLB game action against the Los Angeles Angels of Anaheim at Rogers Centre on June 19, 2019 in Toronto, Canada. (Photo by Tom Szczerbowski/Getty Images) /
Eric Sogard
Chuckle if you must, but have a look at the Blue Jays' roster and tell me that Eric Sogard hasn't been one of their best players this season? Well, I'm waiting?
See what I mean? The man who has made #NerdPower a real thing has been absolutely legit, especially when you compare him against a struggling roster.
I'll admit it, I believe there are better candidates than Sogard for the honour, but I don't think there could be a better story than if he were the one selected. The 33-year-old has perservered through an up and down career and has fought for every start he's ever been given in the big leagues, and I can't help but cheer for a guy like that.
He's also been pretty darn good too, as he's slashed .301/.369/.495 with eight home runs, 23 RBI, 10 doubles, and six stolen bases. He's been worth a very respectable 1.6bWAR so far this year and has been an invaluable veteran to teach the young players around the clubhouse the ropes of the big leagues. Honestly, there aren't many better examples of hard work around the league, and hopefully the highly touted prospects are paying attention.
He does have positional flexibility going for him, and it wouldn't surprise me at all if social media ran with the idea of Sogard getting to play in the All-Star game. It would be quite the story for a guy who agreed to a MiLB contract and started the year in Triple-A, knowing that he was signing up to serve as depth for a rebuilding team.
It feels like a fair reward for the kind of season he's had so far, and if there's anyone that I'm rooting for to get picked by Cora, I'd have to go with Sogard.