Blue Jays Series Preview: Jays look to bounce back in Tampa Bay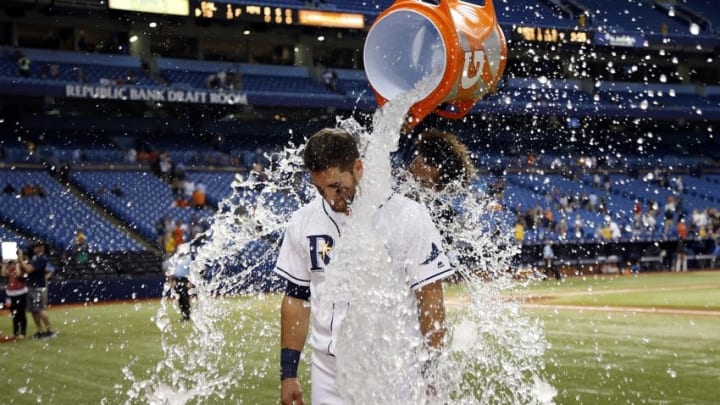 Apr 26, 2016; St. Petersburg, FL, USA; Tampa Bay Rays starting pitcher Chris Archer (22) pours water on center fielder Kevin Kiermaier (39) after they beat the Baltimore Orioles at Tropicana Field. Tampa Bay Rays defeated the Baltimore Orioles 3-1. Mandatory Credit: Kim Klement-USA TODAY Sports /
Mandatory Credit: Nick Turchiaro-USA TODAY Sports /
Game 3: May 1, 2016 @ 1:10 ET
Marcus Stroman (3-0, 4.37 ERA, 4.00 FIP) vs.
Jake Odorizzi (0-1, 3.58 ERA, 2.86 FIP)
Stroman has had a solid yet unspectacular start to the year, as he's throwing lots of innings by pitching to contact and getting the ball on the ground, but his lack of strikeouts have allowed some extra base runners that have come back to haunt him.
His command has been excellent, with a 2.31 BB/9, and his GB% rate is a very strong 60.9%, but his K/9 sits at a measly 4.89 on the back of a low swinging strike rate of 6.3%. It's too early, and the samples are too small to label Stroman as a low strikeout starting pitcher, but you would definitely like to see him missing more bats, especially in two-strike situations.
The stuff is there to get more whiffs, but I think it's his pitch selection that could use an alteration. I'd like to see him use his breaking balls earlier in the count more often, and use his fourseam more often, especially in the upper regions of the zone. I love the sinker, it's a great pitch and it does a good job, but no matter how good any one single pitch is, you can't become too reliant on it.
Stroman can command all of his pitches, I'd like to see him use all of them in different counts and situations. That will keep hitters off balance and lead to more swing and misses when hitters are in an unexpecting two-strike count. He had a great start against the Rays in his first outing, so if he can build off of that and continue to make adjustments, he'll be just fine in this game and for the rest of the year.
Next: Jays converting a 6-foot-10 basketball champion to pitcher
Odorizzi isn't overpowering, but he does an excellent job of mixing the location of his fourseam fastball, especially up in the zone to get swing and misses. Odorizzi needs to nibble as a starting pitcher because his stuff isn't dominant.
His splitter is his best swing and miss offering, and he leans on it heavily, but he doesn't have a real effective third pitch. He flashes a curveball and a slider, but neither of them are relied upon or offer swing and miss potential. Due to this, he's forced to work around the edges of the zone instead of attacking hitters, like Archer does with his overpowering stuff.
I suggested an aggressive approach against Archer because he's simply too good to hit with two strikes, but against Odorizzi, I'd like to see the opposite approach. A patient approach, with the goal of working Odorizzi into favourable hitter counts, forcing him to get into the bigger part of the strike zone with his mediocre stuff is the best way to get to him.