Blue Jays Series Preview: Jays look to bounce back in Tampa Bay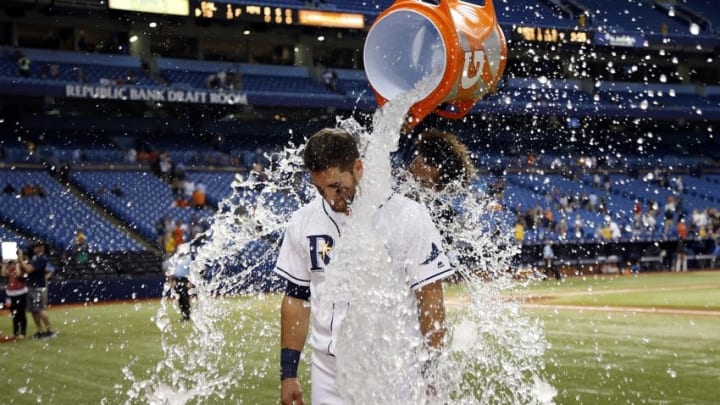 Apr 26, 2016; St. Petersburg, FL, USA; Tampa Bay Rays starting pitcher Chris Archer (22) pours water on center fielder Kevin Kiermaier (39) after they beat the Baltimore Orioles at Tropicana Field. Tampa Bay Rays defeated the Baltimore Orioles 3-1. Mandatory Credit: Kim Klement-USA TODAY Sports /
Mandatory Credit: Bob DeChiara-USA TODAY Sports /
Game 1: April 29, 2016 @ 7:10 ET
Aaron Sanchez (1-1, 3.33 ERA, 3.93 FIP) vs.
Drew Smyly (1-2, 2.51 ERA, 2.80 FIP)
This an intriguing matchup of two young arms who've had strong starts to the season, but are very different from a repertoire and style standpoint. Sanchez offers a right-handed heavy sinker as his best pitch, combines that with a hard overhand curveball, while mixing in both a change and cutter under 10% of the time. According to Brooks Baseball, Sanchez has also been throwing his four seam about 11% of the time, as it looks like he's been using it up in the zone with two strikes to give batters a different look.
Sanchez has been able to get double digit whiff totals on three of his offerings, with the fourseam sitting at 11.54%, curve at 11.86%, and the change at 18.75%. Combining those offerings with the sinker acting as a front door and back door weapon to lefties and righties respectively has led to his sizeable strikeout bunch in the early going.
Sanchez's repertoire is in need of continuing improvement, but his velocity has always been there, and he's shown this year that it can stay as a starting pitcher. His sinker and fourseam are averaging 95.27 and 95.50, and topping out at 98.78 and 98.36. That kind of velocity combined with the life on his fastball is nasty, and he's starting to show the potential he has with it.
Sanchez's latest start didn't go as well as the three prior, as he gave up 10 hits in just 4.1 IP, costing him 6 ER. It seems like more a blip in the radar than cause for concern, as his stuff and control was still there, but the contact he gave up managed to find holes. One thing to note is that he has struggled a bit with the home run early on (1.11 HR/9), despite getting a high number of groundballs (58% GB%). It's still early and could just be a matter of small sample size or a bloated 18.88 HR/FB%, but it's key for Sanchez to keep the ball down and generate weak contact.
Smyly offers a completely different look. His left handed delivery is deceptive, making his average fourseam fastball velocity of 92.03 mph play up. He has a very high spin rate on his fastball, and he's near the top of the leaderboard in fourseam fastball vertical movement. This movement makes it seem like his fastball is "rising", making it a weapon in the upper regions of the strike zone, giving him a very high fourseam whiff percentage of 14.74%.
Also near the top of the list is Marco Estrada, and as we've seen with him, a rising fastball can make an average fastball look much faster and make a changeup look a lot better too. Happ is also someone who possesses a fastball such as this.
That fourseam is an offering that Smyly will go to with two strikes a lot, but he also generates plenty of swing and misses with his cutter (19.28%), curve (15.48%), and change (9.52%). He doesn't offer the velocity of Sanchez, and his repertoire gives a different look, but he can be dominant in his own right.
With that being said, I still like the matchup for the Jays. Smyly is a flyball pitch, largely due to his rising fastball, he performs worse against RHH, and the Jays hit him hard in the season opening series. However, since that start, Smyly has been dominant and the Jays did nothing against back-to-back lefties in their latest series, so you have a favourable matchup on paper, but not when it comes to recent performances.
Next: Happ looks to continue his early season success