Blue Jays Series Preview: Jays look to bounce back in Tampa Bay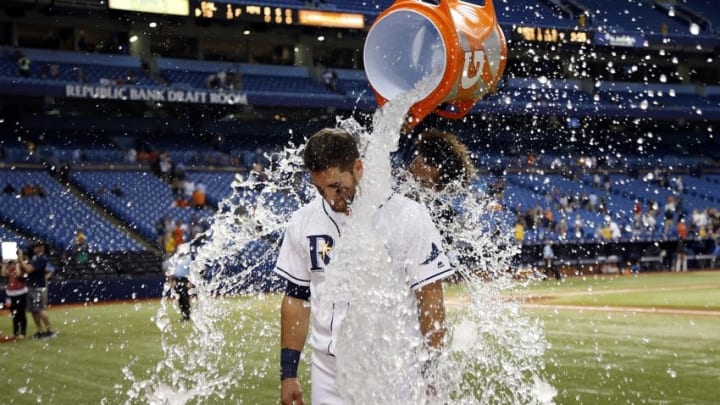 Apr 26, 2016; St. Petersburg, FL, USA; Tampa Bay Rays starting pitcher Chris Archer (22) pours water on center fielder Kevin Kiermaier (39) after they beat the Baltimore Orioles at Tropicana Field. Tampa Bay Rays defeated the Baltimore Orioles 3-1. Mandatory Credit: Kim Klement-USA TODAY Sports /
Mandatory Credit: Kim Klement-USA TODAY Sports /
Across the Diamond
The Rays, in a similar fashion as the Jays, have gotten off to an underwhelming 10-11 start. However, the Rays we're coming into the season with lower expectations; therefore, making their slow start more of what could be a season-long reality.
For the Jays to stay under .500 for the majority season, something would have to go incredibly wrong. Thus far, their bullpen has been a sore spot, and as disappointing as it's been to witness, it's also very unsustainable. Their rate at which inherited runners have been scoring will inevitably regress to the mean, and proven starters are bound to improve. The offence is as talented as it was last year, and it put up a historically good campaign, it's not the time to be concerned about their performance. The same can't be said about the Rays.
Despite the advantage that the Jays have on paper, the Rays are always a scrappy team that can find ways to win, and their starting pitching can give opponents a very difficult time. The Rays 3.52 rotation ERA sits 8th across the entire MLB, and their FIP is 5th, largely due to their ability to strike out hitters in bunches (10.13 K/9).
They possess an array of young arms that offer different repertoires and abilities. But while that area of their team is strong, their lineup leaves plenty to desire and all three of Sanchez, Stroman and Happ had success against them earlier this year.
The Rays own a team wRC+ of 92, which puts them 17th in the league, right in the region where I'd expect them to be at season's end. Steven Souza Jr. and Logan Forsythe, both of whom hurt the Jays in the series prior, have gotten off to great starts, meanwhile Corey Dickerson offers the best home run threat from the left side. Steve Pearce and Brandon Guyer have been good early on as well, but have more success against left-handed pitching, so that's something to watch for against Happ.
From a defensive standpoint, they haven't been as good as you would expect, or nearly as effective as they've been in the past. Their defensive rating on Fangraphs currently sits at -6.9, which places them 25th in the entire league. They have posted a team mark of -7 for DRS and -1.9 for UZR.
This is considerably worse than the 4.6, 7, and 3.6 ratings the Jays have posted so far. It's still early, so the defensive metrics might not hold a ton of weight, but they do act as a potential indicator that the Rays defense isn't as strong as it once was.
Next: Can the Jays offence turn it around against a surging Smyly?